96-99 e36 M3 DME reflashing
We are now able to reflash the OBD2 e36 M3 DME to delete the SAP system, post-cat O2 sensors, and EWS! We can ship a new DME to you or flash your existing DME. Please contact us for pricing.
---
BMW Secondary Air Pump Simulator
Available for e36 (M or non-M) and e39 M52 (not M52tu).
Features
Now includes molded SAP power connector - no need to cut the power connector from the engine harness!
easy to install - includes detailed instructions with photos (standard instructions or plug & play instructions)
includes everything necessary for installation (wire ties, butt connectors)
electronics sealed in epoxy for protection against moisture/vibration
high-temperature, color-coded GXL wire cut to correct length and covered in wire loom
individually tested
Frequently Asked Questions
What does it do?
The SAP Simulator allows removal of the secondary air pump without triggering the "Check Engine" light.
Why would I want to remove my secondary air pump?
Most aftermarket headers do not have provisions for the secondary air pump tubes.
Is it difficult to install?
Installation should be easy for most people who are familiar with working on their e36. Once the secondary air pump is removed the SAP Simulator is mounted with a single screw, spliced into 4 wires under the fuel rail cover for the pre-cat oxygen sensors, and plugged into the SAP power connector. If you don't want to cut/splice the oxygen sensor wires we offer the SAP Simulator with plug & play O2 sensor connectors.
Is it emissions legal remove my secondary air pump?
No, the SAP Simulator is for off-road use only, not intended for highway vehicles.
I found a schematic for a BMW SAP Sim on the internet, can I just build my own?
Yes, you can build your own, but $15 in Radio Shack parts does not match the quality of our SAP Simulator. We use low-tolerance resistors instead of pots that require adjustment, filter the power supply to provide consistent output voltage, protect the electronics from relay back EMF, use the proper wire rated for under-hood temperatures, protect the electronics from moisture/vibration, and package everything up professionally so that it will outlast your car.
---
BMW E36 M3 post-cat O2 simulator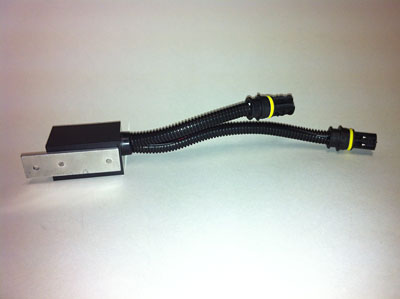 The post-cat O2 simulator will eliminate the check engine light when you are running without cats (track pipe or custom exhaust). They simulate the stock O2 heaters and signal. It is a single black box that simulates *both* post-cat O2 sensors, so you only need 1 per car.
Features
easy to install in 10 minutes
plug & play using OE connectors
includes detailed instructions with photos
electronics sealed in epoxy for protection against moisture/vibration
high-temperature, color-coded GXL wire cut to correct length and covered in wire loom
individually tested